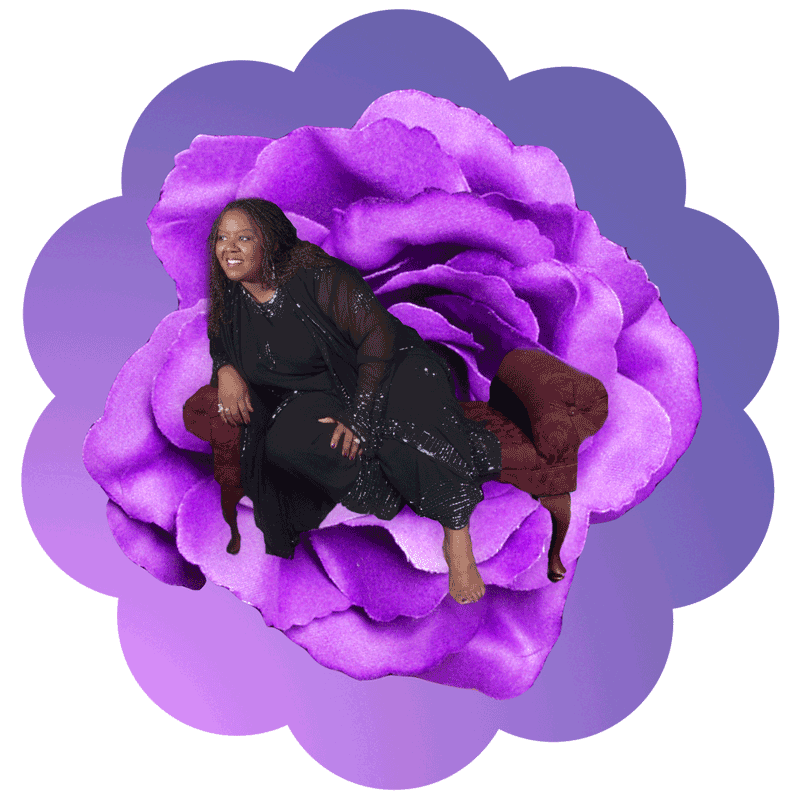 Classy. Earthy. Down Home. Fun. Lisa Henry is the essence of swingin' cool, with A Voice That Does It All.
In the company of Nancy Wilson, Sarah Vaughan and Ella Fitzgerald, this International Jazz Ambassador makes musical magic when she greets the microphone. With her sincere, warm vocal delivery, classic vocal interpretations and unique improvisations, Lisa takes the listener to musical Nirvana.
Raised on music, Lisa began her early singing career in the Baptist Church at the age of 6. By age 12, she had been exposed to the music of Billie Holiday and Miles Davis. Having heard the improvisational magic of Billie and Miles, Lisa turned to jazz, and has been a narrator of the art form ever since.
Her professional jazz career began in the nightclubs of Kansas City at age 17. She was mentored by the great Hammond B-3 player, Everette Devan, and cut her big band "teeth", performing with the Vince Bilardo Big Band and Steve Miller Orchestra.
Lisa Henry is an artist of vast accomplishments, both in and outside the realm of performance. These accomplishments include the recently televised PBS Special: In Performance at the White House, First runner-up in the Thelonious Monk International Jazz Vocals Competition, International Jazz Ambassador to Africa, CD recordings, BET documentaries, and recognition as an international clinician and adjudicator.
As a jazz educator, Lisa takes the legacy and brilliance of jazz into classrooms and college campuses across the world. Through interactive assembly programs and vocal clinics, residencies, music business workshops, and performance adjudications, her teachings reach students from pre-school to university level.
Lisa Henry thrills audiences at home and abroad. International tours include Mumbai and Calcutta, India with Kenny Garrett; South America "Expo Cumbre" tour with Herbie Hancock; Southern and Eastern Africa tour with T.S. Monk, and a month-long performance and educational tour in Madagascar.
Throughout her stellar career, Lisa has, and continues to share the spotlight with many world renowned artists: Herbie Hancock, Anita Baker, Kenny Garrett, Clark Terry, Nnenna Freelon, Ted Curson, Rosemary Clooney, Kenny Barron, Roy Hargrove, Kevin Mahogany, Frank Mantooth, Norman Simmons, Ruben Alvarez, Tom "Bones" Malone, Lenny Pickett, Grady Tate, Terri Lyne Carrington, Jack McDuff, T.S. Monk, Claude "Fiddler" Willliams, Carmel Jones, Doc Cheethem, Wayne Shorter and Lou Rawls, to name a few.
An engaging performer, Lisa's charm and charisma, combined with her vocal abilities, make her a performing artist of the highest caliber.
"She's just fantastic! A beautiful voice, and man can she swing!"
"A fabulous voice. She's really done her homework."
"Wonderful voice and style."
"Some got it, and some ain't. She's got it!"
"Lisa Henry really knows how to wrap her voice around a jazz standard."
"She is beaming, radiant, and she has the presence of all great jazz singers. Her voice is warm and deep, her presence undeniable."
"Going to a Lisa Henry jazz session is like spending an evening with a good friend. Henry's stage presence makes you feel that you've known her for years. She is completely at home on stage."
"Her smart vocal stylings and charismatic stage presence keeps an audience totally enthralled."
"Lisa Henry is held in high regard as a performer, music educator and jazz clinician. Her professional acumen is an asset to any music festival or music education setting."
"What strikes you immediately is Henry's sound: solid but sly, clear but oh-so expressive. There's always a smile lurking at the edges of her voice."
"Lisa Henry has what it takes to get the attention of an audience. Lisa's rich voice and cool phraseology will soak into your soul."